Singletrack Running K2 Challenge
Originally, my plan was to run Lake Sonoma 50 this past weekend (on April 9). But as the race got closer, I started thinking about the logistics of traveling there/back, my husband and baby, and whether it was the right race for me in my build up to Canyons. I feel like right now, it's just too complicated trying to do an away event. Also, on the same weekend, there were local events that seemed like they would be better training for Canyons (for me): the Singletrack Running K2 Challenge on Saturday, April 9th and the Ruck a Chuck 50k (which runs on the Canyons course) on Sunday.
So, after much thought, I withdrew from Lake Sonoma 50. While I'd like to run Lake Sonoma 50 some day, I just felt like this year just wasn't the right time for it. And, my main focus has been doing well at Canyons and I think my alternative plan of doing the K2 Challenge and Ruck a Chuck would be better for me (not saying that Lake Sonoma wasn't a great training race for those who ran it in build up to Canyons 100k). I would still get a big weekend with lots of climbing and descending.
I had also added on AR50 to my training schedule after I withdrew from Lake Sonoma so I'd still get

a 50 miler in. But, things didn't go so well at AR50 last weekend. While disappointed in my DNF, I knew I needed to just let it go and move onto my next big training event. . . the K2 Challenge. . .
This is the recap of the first part of my back to back race weekend -- the K2 Challenge
Singletrack Running K2 Challenge
(April 9, 2016)
The K2 Challenge is a 6 hour event. K2 (aka Training Hill) is a big hill in Auburn. It ascends about 800/900 feet in about 0.9 miles. There are some very steep pitches in there and can be mentally tough for those new to it as there are a few false summits. But it's probably one of my favorite climbs. Very challenging but I know the hill well. After the climb, you hit some single track trails through the meadows in Cool and connect to the Western States Trail. The trail then loops back down on some relatively smooth, not too technical downhill. Me and some friends refer to this section as the chute (as it's almost like going down the bobsled chute). I know others refer to it as the roller coaster. It's a fun section to run down, even for me who does not like downhill running that much. So, the loop is basically 1 tough mile uphill and 3 miles downhill for a total of 4ish miles.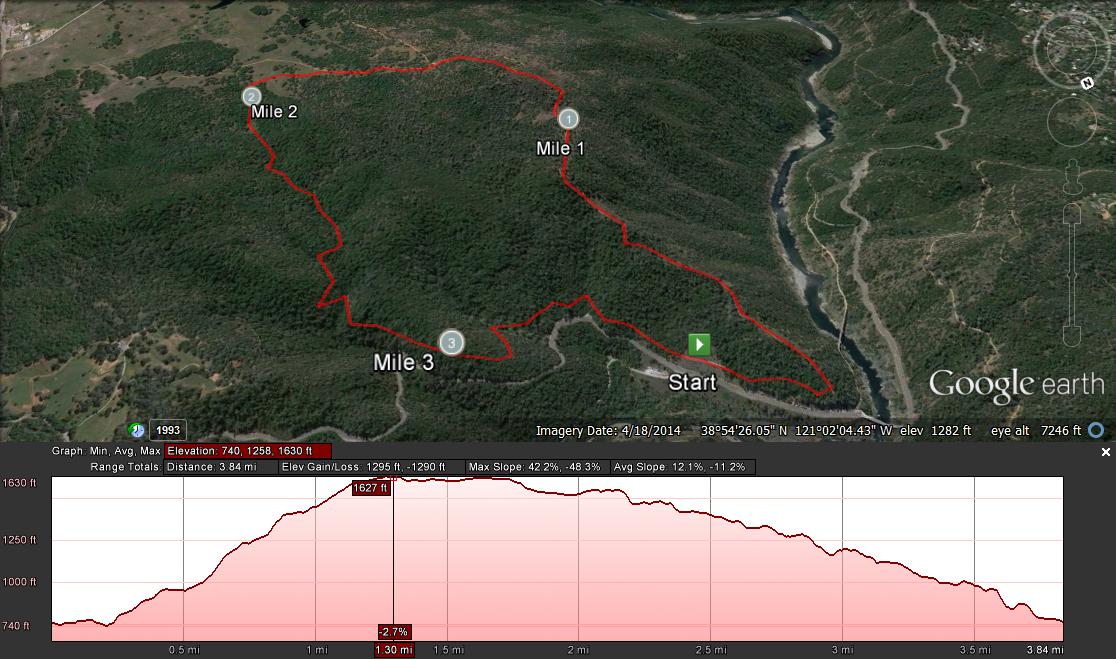 For the event, you have to do as many loops as you can in 6 hours, but go at least 4mph or get pulled (or you can stop if you've had enough of K2). It's a fun challenging event. The first part is really hard but after the three miles down, you feel good and think I can do another loop…
Last year, while pregnant, I did this event in the inaugural year. I completed 4 loops. This year, I knew I could beat that. My A goal was to do 6 loops and my A+ goal was to try to go fast enough to squeak in 7 loops.
My K2 climb times and loop times are as follows:
Loop – K2 climb – Total Loop Time
Overall, I was pretty happy that I kept relatively even splits for each loop.
I had some issues with my pack on the first climb. One of the side straps came undone so I had to stop and re-loop it back into place. After that, my pack mostly managed to be okay during the rest of the time. For this event, I decided to try running with the hydration bladder in my pack instead of the two bottles up front. Just to try something different. Good thing about this looped course is that if the bladder became a major issue, I still had my bottles in my drop bag to switch if needed. But, I stuck with the hydration bladder the whole time and luckily my pack didn't come undone again.
On the 4th and 5th loop, right before I reached the top of the climb, my right quad started cramping a little bit. But once I got to the flat meadow section and started running slowly, the cramping subsided and my legs felt fine running on the descent. I had been taking a GU gel every 30 minutes but realized with the more strenuous effort of climbing K2, I needed to be taking in more. I tried taking more gels, food, and calories after that. On the 6th loop, I cramped again towards the top of the climb and it took a little longer to have the cramp subside. I did debate whether I should go for the 7th loop or not. But, I got to the bottom and had a little less than 50 minutes left so I went for it. I didn't cramp on my 7th loop so that was good.
running into my 5th loop with my husband behind me. he ran with me for 1/4 mile.
As I've said before, I'm relatively slow descending. I do feel like I've made some improvements but I'm pretty slow compared to others who run about my pace. My descents were slow initially but they got better with each subsequent loop. Though, as the race went on, it started to rain a bit more and the descents got a little muddier and slippier with each loop. But, I really focused on my foot placement during my descents, being careful not to trip and fall. I was running my descents a bit faster with the later loops than the first couple.
There was one girl who I would pass on the climb, or at the aid station, and right before we finished the loop, she'd pass me on the downhill. I think she passed me on loop 3, 4, 5, and 6. After the 6th loop, I saw her standing at the aid station. Not sure if she was going to go for another loop but I went for it (kind of hoping she'd be done with 6, which she did).
Other than the cramping, which didn't last too long, I felt pretty good during the loops. The climbs didn't seem to get too much harder after each loop. I listened to a few of the Ultra Runner Podcasts and Ginger Runner podcasts during my loops so that kept me entertained for the most part and I didn't get bored doing the loops over and over again. For me, I feel like there's enough variety in the loop to not make it boring.
I was extremely happy I managed to squeak in 7 loops. I knew I had pushed myself a bit and was a bit bold by going for the 7th loop, especially knowing I had Ruck a Chuck 50k the following day. I had debated whether to be conservative and just stick with 6 loops but I feel like this challenge fits well with my strengths so wanted to see what I could do so I went for the 7th loop.
Total distance according to my Garmin is 27.07 miles, 6600 feet of climbing (and descending). I did go a wee bit past the 6 hours so I guess you could say I technically did 6.9 loops in 6 hours. I finished 2nd female (first female being the amazing Beverly Anderson-Abs, who beat all the men and crushed it in 8 loops).
Three Things That Went Well
:
1. I maintained a c
onsistent pace throughout. I was pretty happy that each of my loops were fairly consistent. Just one loop was a little longer than the others due to some cramping issues but I still didn't lose very much time during that loop.
2.
No chafing. I tried wearing my running skirt (haven't been able to wearing skirts or shorts in a long time due to chafing issues). I used 2Toms for the first time (after some fellow runners recommended it). It worked great! Had no horrible thigh chafing! I even got pretty wet from the rain and still didn't get any chafing. Happy with that as once the weather gets hotter, I might be able to wear my running skirts and shorts again instead of the capris.
3.
No stomach issues. I'm pretty happy with this given the issues I had last weekend. The weather was a bit cooler (and wetter) than at AR50. But, I'm glad my stomach bug is finally gone and I ran the 6 intense hours with no stomach issues.
Three Things that I Could Do Better or Change:
1.
Fueling. I didn't intake enough calories for the effort I was going. While I was eating every 30 minutes initially, I needed to be eating more frequently given these loops aren't just rolling hills but require a lot of effort from me so I'm probably burning more calories.
2.
I'm still experimenting with my new pack as to what will be best for me. For this event, I tried the hydration bladder instead of the bottles. While it's nice I can go for a while without refilling and that I can carry more fluid, it's hard to tell how much I'm consuming and it seems to take a while to refill. And, it takes a bit to refill when I do need it refilled. I also didn't carry any electrolyte drink on me and that became problematic. So, I may try going back to the bottles. Or maybe do the hydration bladder with water and an extra bottle with electrolyte. I may try a different pack. I just know I want to keep experimenting with different things re the pack/hydration to see what will work best.
3. Descending. This is always an area I could do better. I did feel like I got a little better with each loop as I got a little more comfortable knowing exactly dip and bend to the descent but it was a little frustrating to have this one girl catch me every single loop about 1/2 mile to a mile from the end of the loop.
1.
Don't just eat gels or food on set schedule. Think about effort level as well. Harder effort (big climbs) may require additional fuel.
2.
Timed events are different mentally than distance events. While in ultras, I do think about distance between aid stations to break up the distance, I still think about how much farther I still have to go overall. But, during the K2 Challenge, I just thought about everything in 4 mile increments. I also knew I had control over how challenging I wanted to make the day. If I just wanted to do three loops (or just four or just five) and call it a day, I could have. And, I think knowing that I had that control helped me push a little more. I also noticed I maintained pretty good spirits throughout the whole 6 hours, even when I was cramping a little. This is different than my experience in some ultras where I go through ups and downs. I do really want to try a timed track event some day and wonder how that'd compare to this hill-loop challenge.

3. Being consistent with yoga and stretching helps. I had been good about doing yoga nearly every day, even if it's just for 10 minutes. But, the couple weeks before AR50, I started slacking on it. Got busy or tired or just plain lazy at night and such. After AR50, my sports massage therapist Tom (from Vudoo Massage) commented that he thinks some of the tightness/soreness/pain in my hips and calves I've been feeling may be from tight hamstrings. This past week, I started trying to get back to routinely doing yoga in the evenings before bed. I even did some yoga videos focused on tight hamstrings. And, I think it definitely helped I did some yoga before and after the K2 Challenge.
Some Tidbits about the K2 Challenge and/or Singletrack Running
1.

1.

This is a great event for all different levels of trail runners! What is great about the timed event, loop course is that you don't have to run all 6 hours. It's a challenge but you can control how much of a challenge you want to make it for yourself. One woman asked me before the event if she had bitten more than she can chew and asked me if the event was doable for the average runner or only the better than average. I think the event is great for all levels. There are some that can only do a couple loops and then there are amazing folks like Beverly Anderson-Abs. I told the woman it's just a four mile loop. One loop is doable. You can do one loop and see how it goes. If you feel ok, go for another and so forth. That woman met her goal of doing four loops. So, don't be intimated by what others are able to do.
2.

2.

Great event for family and friends to spectate as well as there is only one aid station at the start/finish. And, they only need to wait no more than an hour for you to come around. There's also beautiful views of the American River and the Foresthill Bridge while they wait.
3.

3.

After the event, there's a fun post-event get together at Knee Deep Brewery where Singletrack pays for all the racers' first beer.